Do you have hattitude?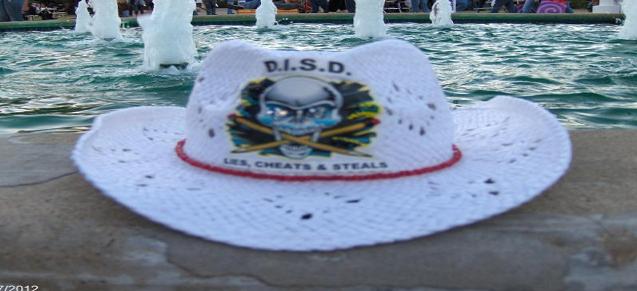 At the State Fair of Texas hats are worn everywhere.  The hats are for sale to all visitors and worn by whoever wants  to wear one.  Every hat tells a story and some hats come alive when trimmed in turquoise, silver and feathers, or fancy hat bands.
Being Big Tex's 60th Birthday, the residents affected by DISD's twisted plans created something hotter than a Fletchers corn dog.   It is actually bigger perhaps than the Texas Star.  Who knew that a custom StopDISD hat could draw so much attention?
It is amazing to see all the hats parading around at the State Fair as some hats have such a great history or story  behind  them.  When explaining the story and history of the StopDISD hat, people  then get involved and excited about the meaning behind wearing that particular hat.
Want  to Stop DISD in their tracks?  Contact DISD at 972-925-3700 and let them know how you feel about the unnecessary destruction going on in the Jubilee Park Community.