No help from Jubilee Center for East Dallas Residents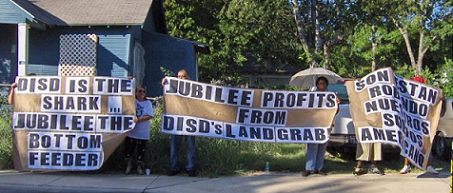 Residents turned to Jubilee Center and Walt Human for help in stopping DISD's Land Grab and for alternate solutions…but, they turned a deaf ear to their cries for help…so, the residents are letting Jubilee Center know how they feel.
At this mornings Jubilant event
Walt Human said..
"We want to prove the concept that you've got to address community revitalization in a comprehensive way." What's taking place in Jubilee Park, he said, should be a model for communities like it around the country.
While Mr. Human speaks and Jubilee Center celebrates…just a few blocks away this event is not very Jubilant for the seniors, disabled and veteran residents residing on Philip and Gurley Streets their future is very bleak their cries for help have been ingonered by Jubilee Center. Jubilee Center has not addressed DISD's Land Grab and refuses to step in an help these residents.
DISD has already spent $2.6 million of our tax dollars when it remodeled O.M. Roberts just two years ago, and they STILL want to tear the school down completely and rebuild – only to bill its taxpayers again!
That doesn't make economic sense!
In addition to the reckless demolition of a beloved school, DISD has already succeeded in seizing some of the property in its eminent domain lawsuit. Now DISD is saying that it will keep that property only to demolish those homes to make room for a parking lot – right in the middle of the remaining homes!
A Neighborhood consists of homes, not parking lots!
No! to destroying this neighborhood! Yes! to utilizing our tax dollars to better educate our children; Yes! to greater compensation for our teachers; and Yes! to preserving our beloved O.M. Roberts and our neighborhood!
Just seven blocks away sits a site that DISD could use but refuses to consider for the new O.M. Roberts Elementary School.
Help Stop the Madness and voice your opinion let your elected officials know that DISD must be stopped We say NO to the destruction of homes, schools and neighborhoods contact Jubilee Center at 214-887-1364 and DISD at 972-925-3700 and ask them to consider an alternate solution that would benefit our children, redisents and business owners.
Thank you