DISD Trustee Bernadette Nutall Tells Jubilee Parkers: "I Wouldn't Want Anybody to Take My Home."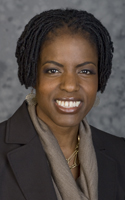 Daniel Rodrigue, Dallas Observer – As expected at 9 this morning, nearly 20 folks assembled in a briefing room at Dallas Independent School District's Ross Avenue HQ to hear what — if anything — District 9 school board trustee Bernadette Nutall (pictured left) would have to say about DISD's plans to exercise eminent domain to acquire property for a new O.M. Roberts Elementary School. Most in attendance were residents, though two long-time employees of Vickery Wholesale Greenhouse were there on behalf of owner Pat Berry, who was in Austin on business.
Nutall was the only trustee who showed up. She was flanked by Arnold Viramontes, Superintendent Michael Hinojosa's chief of staff, and Rawly Sanchez, the deputy chief of staff. Naturally, Jack Elrod, DISD's general counsel, was there as well.
Nutall started off by explaining that she was a relatively new trustee and wasn't on the board when the 2008 bond package was approved. Nutall admitted she was trying to "get caught up to speed" on the issue, saying: "I'm trying to figure out what's best for … DISD and what's best for the residents, and ultimately, for the children."
"Who all wants to stay in their homes?" Nutall asked the residents, inviting them to raise their hands. All the residents in the room held their hands high.
"No matter what price?" Nutall pressed. No. No takers.
Shawn Busari was the first Jubilee Park resident to speak, and she provided a brief recap the history of the neighborhood and of the events that have transpired since the residents first heard that DISD was interested in their properties.
"I need you all to understand and know the human side of this," Busari said.
After a few more residents unloaded their stories on the DISD folks, Nutall interjected.
"I see both sides of it," Nutall said. "I see that the school [was built in] 1909, it's an old school." Nutall said, yes, without a doubt it needs improvements.
"But I also understand that it's easier said than done, that we can go and say, 'I'll give you this for your house, and you'll find another house.' I see. I see. I wouldn't want anybody to take my home, because I wouldn't know where to go, so I understand that, when your home is your home. Whether I like your home or dislike it, that's your home, that's where you've done your birthday parties, your celebrations.
"I hear your concerns — you don't want to move," she continued.
Then, turning to look at Elrod, she said, "So, you know, we need to maybe stop all negotiations here. They say they don't want to move. Let's, let's leave that alone and then, I, I don't know, it's up to the attorneys." She told Elrod, Sanchez and Viramontes, "I just ask you to really look at it and really figure out what's best."
Then, Nutall and the DISD staffers heard the stories of several Spanish-speaking residents, who'd been given English-only contracts, which some had signed. With Rawly Sanchez serving as translator, they told Nutall they felt as though they'd been pressured into signing the contracts because no way they'd beat the district, simple as that. One said he was told, "You're fighting against the government," They also say they were told they shouldn't waste their time or money hiring attorneys.
To which Nutall responded: "Everybody needs to be treated fair, consistent and legal, we have to be that way. If the people that we're hiring and paying are not doing that, then they don't need to be doing it, because we wouldn't be at this place today, if we'd handled things aboveboard and were fair, legal and consistent with everybody — regardless of if they speak limited English or if don't have anybody to fight for [them]." (We've left three messages for attorney Florentino Ramirez, the attorney Dallas has hired to handle land acquisition in Jubilee Park).
"I agree," Elrod said.
After the residents spoke, Mark Mathie, the attorney who's representing a handful of the residents pro bono, weighed in. He explained that the residents were being handled in a "piecemeal" fashion.
Mathie pointed to a DISD plaque hung on the wall of the meeting room, and then read it to the DISD folks. "Frankly, your thing here says, 'We believe that our school district must be a model for sound fiscal responsibility and integrity,'" he said — and, yes, it was a moment of out of a movie. He called the district out for its handling of the Jubilee Park residents, and went on to ask for a "standstill on the condemnations."
Nutall told Mathie and the residents, "I trust Mr. Viramontes and Mr. Elrod that they do what they say and mean what they say and that they're going to follow up and look at all options. Is that what we agree, at the end?"
She was answered by nods of agreement and an "absolutely" or two.
"Look into it," she charged them. "Look into all the stuff that's gone on, to make sure that we are good business people — that, at DISD, we are handling our business professionally."
"We will look at all the different alternatives," Viramontes said. "My supposition right now is that we have looked at all of the alternatives, but I will verify, and make sure that we go through all of those again."
Then it was time for the DISD folks to start passing out business cards to the residents. The residents and Mathie left saying they appreciated the district lending an ear to their questions and concerns.
"For now, I'll take them at their word," Mathie said.